Strike up the FPM band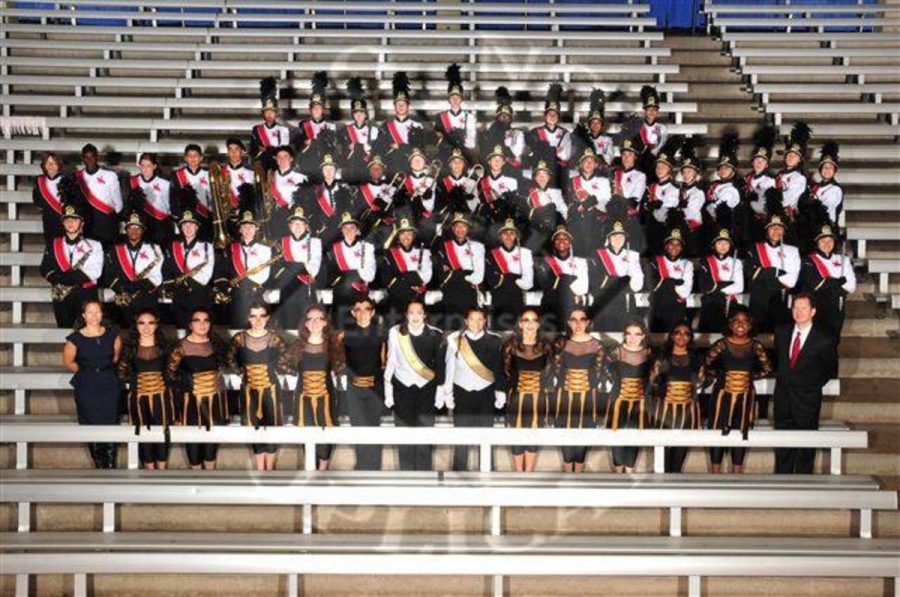 Ryan Casale
December 11, 2013
The FPM Marching Band and Color Guard had a very successful season, beginning a few weeks before school started, when they attended band camp. It consisted of full days of practice with an hour off for lunch, as well as an hour for dinner. The show this year was Ka (The Fire Within) from Cirque Du Soleil, and students had to learn how to march in step. Band camp concluded with a performance for the parents.
During school, the students practice twice a week from six to nine at night in order to perform at football games, parades, and competitions. At football games the band performs at the opening On Wisconsin (our school song), The Star Spangled Banner, and Let's Go Red. Ka is also performed at halftime.
Every year the band marches in the homecoming parade. This year's parade was definitely one to remember. Throughout the entire parade it poured so most of the uniforms were soaked and most of the music was ruined. After taking a break to eat the band participated in the homecoming game, despite wanting to leave and dry off.
Most of the Floral Park Marching band is a part of the district marching band which marches in parades in the city. This year they marched on Columbus Day in New York City and will also march in the city's St. Patrick's Day parade. Band members are excited about performing at Disneyworld in May.
At each parade the band plays You Can Call Me Al and On Broadway. On Columbus Day FPM's band was on the television broadcast and one of the FPM students, Jordan Colon, played a solo for the song, On Broadway.
A third aspect of marching band is the competitions. This year the band participated in the Copiague Competition where they scored 61.25 (FPM's highest score at a first competition ever) and came in 3rd place, the Malverne Competition where they scored 62.85 and came in 3rd place, the Huntington Competition where they scored 67.45 and came in 2nd place, the Mineola Competition where they received 69.15 and came in 2nd place, and the New York State Field Band Championships in Syracuse where they scored 72.25 and came in 8th place out of 13 bands.
Mr. Lee Duke said, "This year's marching band was extremely special to me. Not only does this group include the first class of seniors that have been with me for four years, but all of them developed into a close-knit family throughout our season. They epitomized what I believe to be the best qualities of marching band: strength, determination, compassion, and fellowship. I had a blast teaching them this year. They will forever be part of our band family, and I look forward to continuing to watch them grow."
On October 16 the marching band went to the Newsday Marching Band Festival with many other bands, including all of the bands from our district. This event was broadcast on MSG Varsity on Thanksgiving Day.
This year's final experience for marching band was the trip to Syracuse, performing at the Carrier Dome and then the long trip back to Floral Park.
The seniors who have been in band since Mr. Duke started at Floral Park, Anna Mavrikakis, Gabrielle Sollecito, and Gregory Simicich will all be missed. Anna Mavrikakis said, "Every year since I joined the Marching Knights I've watched my best friends graduate and move on to bigger and better things. Now it's my turn. Looking back on the 2013-14 marching season, all I can remember are two things: adventures with my second family and tears. Lots and lots of tears. It's hard to fathom the fact that this chapter of my life is now over. Going to our very last Newsday Festival, last competition, and last 6-9 weekday practice brought tears to every senior in marching band, whether they've been part of the program since their freshman year or just joined their senior year."
Band members are as follows:
Drum Majors- Anna Mavrikakis and Grace Woodruff.
Flutes- Kezia Varughese, Christian Franco, Megan Holahan, Dorothy Johnston, Carlo Basconcillo, Kristen Moy, Lauryn Scott, Aswathy Vinod.
Clarinet- Gabrielle Sollecito, Yazmi Miah, Laura Freely.
Bass Clarinet- Katherine Byrnes.
Alto Saxophone- Maura McCarthy, Johnathan Reedhi, Salvatore Voltaggio.
Tenor Saxophone- Samantha Danyi.
Trumpet- Rebekah Davidson, Jordan Colon, John Clune, Ryan Casale, Thomas McCarthy, Matthew Fusci, Aidan Dorry.
Mellophone- Philip Stern, Andrea Bulding, Remy Perez.
Trombone- Zachary Goss, Dylan Slavin, Matthew Small.
Tuba- Ryan Slavin, Jessica Tymecki.
Snare Drum- Robert Sangen, Michael DeLeon, Evan DeClemente.
Quad Drums- Gregory Simicich, Kenny Niles.
Bass Drum- Josh Doobay, Tia Cestaro, Cathryn Brackx-Crowley, Kelvin Varughese.
Pit Percussion- Kimberly Keane, Ryan Stennett, Michael Hyde, Vishal Mirchandani.
Colorguard- Jake Montanaro, Joanna Ast, Giovanna Carroll, Jasmine Nuñez, Aaliyah Welsh, Hannah Lauth, Sophia Alvaranga, Stephanie Butron, Ganga Ajay, Sarah Leonardi.
In addition to the winter and spring concerts, the last event at which the band will perform will be graduation. And after a month's summer vacation, they will be back at marching band camp 2014.
"I am so proud of how far our marching band has come this year. These students gave 100 percent at every rehearsal and competition since their band camp in August. The students enjoy working together and celebrating all they have accomplished this season. I am very excited to see what is in store for this group of students in the future," said Ms. Lisa Kolb, Chairperson of the Music Department.