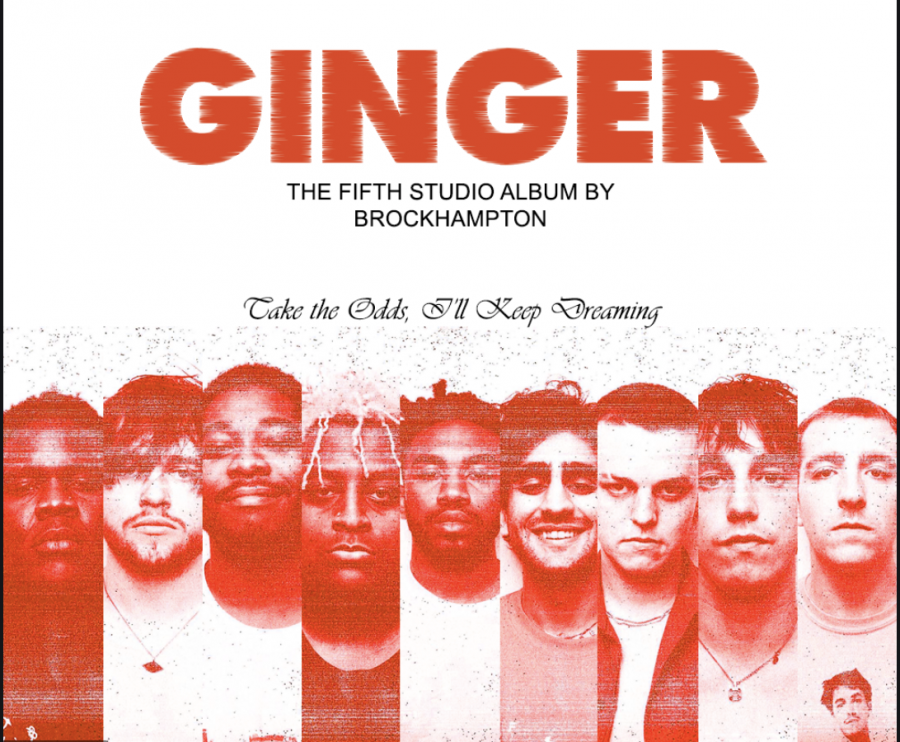 A new record from the self-proclaimed hip-hop boy band of the internet era, BROCKHAMPTON, has been released!
It has been less than a year since the group's last record, an album that was recorded during a very turbulent time of their careers, with the forced exit of former member, Ameer Vann, due to sexual misconduct allegations, as well as an altercation with present BROCKHAMPTON member Dom McLennon. This sudden change completely derailed the band's release schedule for the record Puppy, being delayed due to these issues. The album was completely scrapped due to Vann's presence throughout the record. The release of Iridescence failed to live up to the standard that the Saturation Trilogy held prior to its release. Tracks on the record completely lacked cohesiveness as well as direction leaving the album feeling completely neutered in sound. This led to the band going on a six-month hiatus to regroup and go back to the drawing board. What came out of this uphill battle would be the record Ginger. 
Ginger is a complete exorcism of all the negative emotions the band members were going through. The material on Ginger is focused and centered on making it the bands' most mature record to date. This record is about internal conflicts, being lost and flawed as well as finding redemption. The intro song No Halo has a gentle beat with subtly warped guitar instrumentals and bittersweet vocals from featured artist Deb Never and band member Merlyn Wood, along with a verse by Joba which was layered with key features that are highlighted within the record, using religion in order to cope with a bad situation. The second track is Sugar which gives listeners a soft R&B jam with a catchy hook from BROCKHAMPTON's founder Kevin Abstract. The track Heaven Belongs To You is a short motif to the upcoming songs on the record that consists of featured artist Slowthai who had recently released his first project earlier this year. On this track Slowthai raps about how you shouldn't need to pray and wait for things to come to you since they already belong to you, and it's your job to obtain these things, bringing religion down to more of an eye-to-eye level rather than having to glorify religious practices just to become successful.
The track Dearly Departed is one of the most important songs on the album. This track can be explained as a violently outward thrust of all the negative emotions the group has been dealing with within the past year. The track has a slow, groovy sound that gives off a drowned 70s soul ballad. Verses from band members Kevin Abstract, Matt Champion,  as well as Joba's chorus that ends with a gut-wrenching wail are all essential to the track. But the most hard-hitting verse comes from band member Dom McLennon. In his verse, he discusses his side of the story on the Ameer Vann situation. McLennon expresses his feelings of extreme betrayal in this explosive verse. Though this record has some very strong moment, there are a few weak links within. 
I Been Born Again, for example, feels poorly put together and lacking direction. There is, however, one redeeming feature on this track. BROCKHAMPTON's producer Jabari Manwa demonstrates his ability to create a sort of cohesiveness within the song. He does this by ever so slightly changing beat to compliment each member's flow on the track. The second to last track, Love Me For Life, is a song that needed to be scrapped. Joba's melodic verse on the track starts to become tedious and annoying, while Kevin Abstract's verse which was very lackluster, needs to be taken back to the drawing board. 
Victor Roberts was a stellar outro.  The track was named after new artist Victor Roberts II. Roberts' verse speaks on a very traumatic event he experienced at a very young age that would completely sober the listener. His flow on the track gave the impression of frustration, making the verse ever so compelling. Immediately after his verse it follows up with a beautiful chorus by featured artists Ryan Beaty and band member Bearface, which neatly wraps up the song. 
BROCKHAMPTON has found its footing after a long year of tumult and everyone will be anticipating what the band will do next.   
GINGER by BROCKHAMPTON 8/10