More MLB Hot Stove Talk
Alison Goldberg offers a counter to Shane's MLB free agency predictions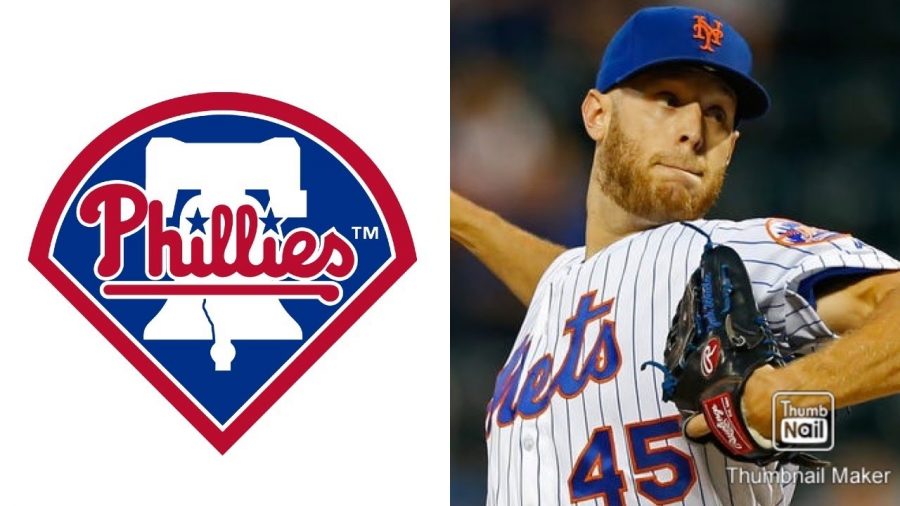 Alison Goldberg, Co-Editor in Chief
December 6, 2019
(Thanks Shane for coming back to give us your thoughts on the baseball offseason free agency market. We at The Shield hope you are doing well in Missouri. Now I would like to give my thoughts on what should be another significant few months of transactions.)
It's now early December and the MLB Hot Stove is at a low simmer. As of December 4th,  two MLB teams decided it was time to upgrade their rotations. The Atlanta Braves brought the stove to a low boil that morning with the signing of veteran pitcher Cole Hamels for a deal worth $18 million over the span of one year. Before an oblique strain sent him to the injured list, he upheld a sub-3.00 ERA for the Chicago Cubs. Once he returned from the injured list, Hamels accumulated a 5.79 ERA. This deal motivated another NL East rival to make a move to bolster its rotation. But this deal was much larger in scale. The Philadelphia Phillies signed Zack Wheeler to a five-year deal worth $118 million. That's right, Zack Wheeler is now, officially, a former New York Met. This one definitely hurts, but I saw it coming. Wheeler deserves a big payday. He has made 60 starts over the past two seasons, going 23-15 with a 3.65 ERA and 374 strikeouts in 377⅔ innings. Plus, last season, Wheeler reached a career-high 195 strikeouts. This deal is a big one and I'm interested to see if the Phillies are proven wrong once again with who they dish out their large checks to (yes Bryce Harper, I am talking about you).
Another playoff team will look decidedly different next year as the Milwaukee Brewers let two key players walk. Yasmani Grandal and the Chicago White Sox shocked the baseball world when they came to an agreement on a four-year, $73 million dollar contract. But, after further investigation (and conversations with Mr. Simone) it all made sense to me. James McCann and Jose Abreu can now split their time between 1B and DH evenly. With some young stars already on the South Side of Chicago (Yoan Moncada, Eloy Jimenez, Lucas Giolito… and just wait for Luis Robert), this addition makes the White Sox my team to watch for next year. Also departing Milwaukee is Mike Moustakas, who signed a $64 million contract which lasts four years in Cincinnati. This is the largest free-agent contract in Cincinnati Reds' history. If the Reds add a couple more bats, they could take back the NL Central division title for the first time since 2012. Keep in mind, their rotation is already STACKED with Trevor Bauer, Luis Castillo, Sonny Gray and Anthony DeSclafani. 
So, since there are multiple other free agents without teams, I will be making my predictions for where they are headed…
GERRIT COLE: Gerrit Cole will be able to join his family more often this season.  That's right, Cole will be in the Hollywood limelight. He's going to be featured at the front of LA's rotation with Clayton Kershaw. This will create a force to be reckoned with, as this pair will also serve as excellent mentors for the young arms the Dodgers have.
ANTHONY RENDON: As one of baseball's most underrated players, Rendon will be rejoining his reigning World Series championship team. He is on the older end for MLB, and won't receive many lengthy contracts besides an offer from the Nats. They see the Top-5 MVP finisher as a player worthy of keeping around.
STEPHEN STRASBURG: Another player looking to join his family in his native region, the reigning World Series MVP will take himself back home to San Diego.   The young core coming up for the Padres is entertaining and intriguing. Stras at the front of this rotation will work very well.
MADISON BUMGARNER: After a long successful career in North Cal, this four-time All-Star looks to head to the East Coast. And he'll need to make some amends upon his arrival, because he's hopeful to see the postseason again here, except as a New York Met. That's right. The man the Mets were shut out by in 2016 will now join their side. 
MARCELL OZUNA: After listening to multiple offers, Ozuna sees hope where he just left off. Even though the NLCS sweep was a tough one to swallow, Ozuna will return to play again with the Cards. 
NICHOLAS CASTELLANOS: This one will be tough for me to predict unbiasedly (it actually will be biased, sorry). Anyone who I converse with about baseball, knows how badly I want to see Nicholas Castellanos in a Mets uniform. Ever since I saw him hitting the ball all over Citi Field in May, I wanted him to sign here. So, I'll hopefully speak this one into existence when I say: Nicholas Castellanos will be a New York Met.
JOSH DONALDSON: I thought that the Angels were going to land a different star  veteran third baseman last year in Mike Moustakas, but this year they won't come up short when they sign the 2015 AL MVP. With strong defenders, Andrelton Simmons and Josh Donaldson, on the left side of their infield, Anaheim will make themselves serious competitors. 
DIDI GREGORIUS: After trading for Jean Segura last offseason, the Phillies thirst for  more. Joe Girardi will convince the front office to make this signing, reuniting with his shortstop from his Yankees' years, and Jean Segura will have to find a new home.
DALLAS KEUCHEL: Cole will not be the only pitcher heading to Southern California this year.  Keuchel, the former AL Cy Young Award winner for the Astros, will land a deal in Anaheim. At the front of their rotation, Keuchel will serve as a mentor, specifically for Andrew Heaney (whom I believe will be a strong contender for the 2020 AL Cy Young), and Dylan Bundy, recently acquired from the Baltimore Orioles.
YASIEL PUIG: Get ready for two of the best outfield arms in MLB to share the stage. Mike Trout will look to his left, and see Puig in right field. I do believe the Halos are going to make multiple large splashes this off season and I think this may be one of the cheaper, but great signings they make.
TRADE PREDICTION–JEAN SEGURA TO THE TIGERS: Unfortunately, the Phillies look to dump Segura after signing Didi Gregorius. He ends up with the Detroit Tigers. The Phillies will get RHP Brad Bass, OF Roberto Campos and top prospect, SS Wenceel Perez, in return. But it's likely the Tigers flip Segura at the trade deadline.
Let's see if Mr. Simone finds some time to offer his thoughts in the near future, assuming he has recovered from the disgraceful cheating allegations of his much-loved Houston Astros.