Class of 2015: A Senior Reflects on the Past Six Years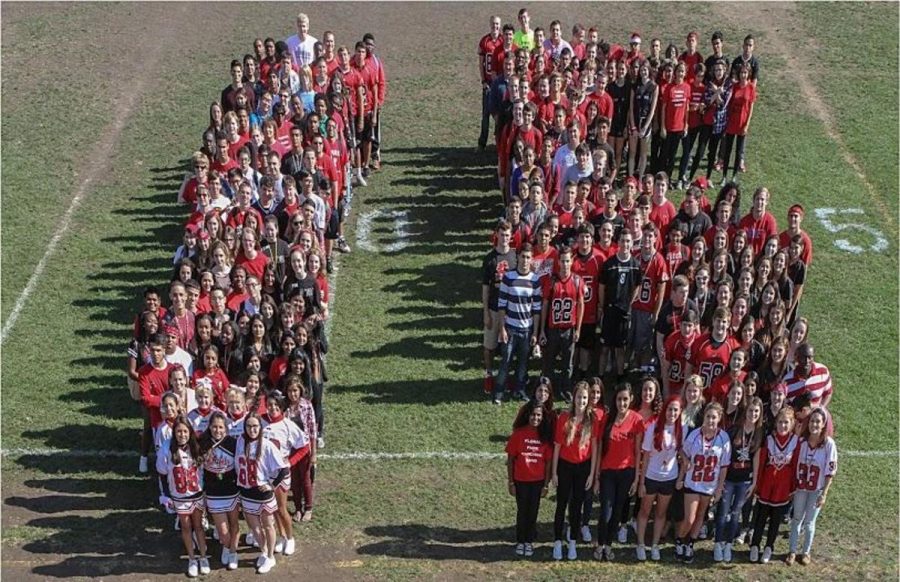 Sophia Skiadas, Senior Staff Writer
June 24, 2015
It truthfully does not feel like six years have gone by.  When I first entered Floral Park Memorial, my biggest fear was navigating through the halls to class, and now, days before graduation, that seems silly with all of the challenges ahead of us.  But I will take comfort in that I learned my way through the hallways of FPM, and use that as reassurance when walking the expansive campus of Binghamton University.  We have all overcome fears from seventh grade, and should remember this when we enter the next stage of our lives.
These past six years have brought me great knowledge, friends that I have literally grown up with and experiences that have prepared me for college and a career.  The relationships we have developed with each other help shape who we are.
A big part of my FPM experience has been participating in the musical every year since the seventh grade.  As a seventh grader, I was shocked to even be in the musical, Thoroughly Modern Millie, much less to have a role as a speed tapist with four seniors and one freshman.  I remember that I missed the auditions and had prepared a song for the callbacks.  Somehow, I went to the tap audition by mistake, and it was the greatest "mistake" I have ever made.  I knew that I loved being on stage, but having such a role in an extravagant play was the beginning of my musical theater journey at FPM.  Every year, the musical was special to me for different reasons.  Each cast became a family and I know that I have made friends that I will have forever because of the musical. It is a bond that is so special because everyone has the same goal of producing the most amazing show possible. For me, one of my most special moments at FPM was this year's production of Hairspray. Right before Thanksgiving I found out that I chosen to play the role of Tracy Turnblad. Playing Tracy was my dream ever since I was eight and I saw Hairspray on Broadway with my mom. I love everything about Hairspray, the music, the story, the characters.  It was truly an honor to play Tracy and to be a part of such a talented cast. The whole cast, crew, and Mr. and Mrs. Koch worked so hard during rehearsals.  We really produced a show that I am so proud of. It was such an amazing way to end my musical career at Floral Park Memorial.
Each of us has similar defining moments over the past six years.  For some it was the experiences on Model United Nations or Future Business Leaders of America field trips.  For others it was playing in the Nassau County Basketball Championship games.  We should all take great pride in what we have accomplished at Floral Park Memorial.
At FPM, I also tried to step out of my comfort zone by joining the varsity cross country team during my sophomore year. Running is something that definitely does not come naturally to me, but for the last three years, I felt so satisfied and proud of myself at the completion of each season. I also met great people and loved being a part of the team. It was also pretty neat to "brag" to my grandpa every day how I ran five miles every day.
Next year we will all have the opportunity to broaden our interests, meet new people and accept new challenges.
If I had made a checklist at the beginning of seventh grade, I truly feel I would be able to check everything off. I was able to join sports, the musicals and our amazing a Capella group, Long Island Sounds. I'm still shocked that I am graduating, I have grown up and experienced so much, but ironically my mom still packs my lunch. Of course, I am looking forward to college and starting the next chapter of my life, but FPM has been my home and it is such a bittersweet feeling to be leaving. I am so thankful for my time at FPM… the place I learned to challenge myself academically and where I was able to be a part of clubs that meant a lot to me. I really am going to miss walking down the halls and seeing all of the students that I have known for most of my life, but I know that each and every person will go on to do amazing things because of our foundation at FPM. To my fellow seniors, I thank you for the greatest six years and I can't wait to see what the next six years will bring to all of us! So my fellow graduates our song is not ending… "You Can't Stop The Beat".