Mrs. Francis' 8th Graders Discuss Common Core and Immigration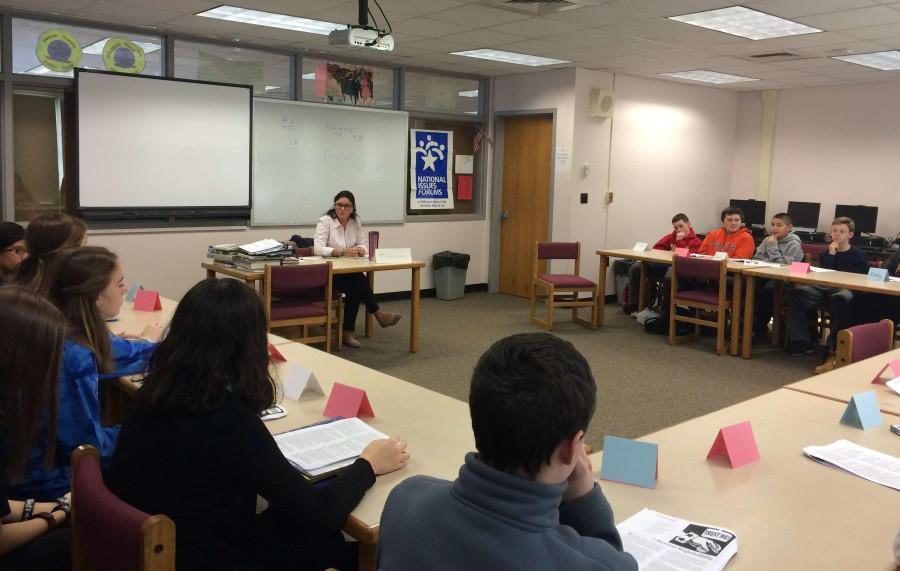 Danielle Ashbahian, Staff Writer
June 23, 2015
If a politician wants to see how the common core learning standards are being implemented in schools, he or she should come observe Mrs. Francis' 8th grade social studies class.
One of the primary goals of common core is to develop student-centered lessons that require the participants to think critically and analytically.  This year, Mrs. Francis's class was asked to resolve key issues that are not only impacting the local community, but are also being debated on the state and federal level.  The program is titled "Deliberative Democracy" and was a great success this year.
Deliberative democracy means that people should discuss different points of view regarding an issue in order to reach a fair resolution.  Everyone's opinion and perspective should be heard.  As a result of deliberative democracy, citizens can influence the community and attempt to solve key problems.
In Mrs. Francis' class, three different simulations took place.  Each of these simulations lasted for 3-4 class periods.  The first topic was called the political fix.  The primary focus was how members of the community can best have their voices heard in a changing political system.  One of the issues discussed was whether Americans would be better served with a president who is not deeply connected to politics.  The students had a lot of discussion on this subject.  Some students supported this idea, believing that a candidate not from the upper-class elite might better understand the problems that many Americans are faced with each day.  However, other students countered that a candidate needs to understand how politics works in the United States.
A second subject that was debated focused on immigration.  The students debated the government's immigration policy regarding what individuals should be admitted into the country.  The final topic was how to fix the achievement gap in education.  As a class, the students discussed what can be done to help children who are falling behind or who do not yet speak English.  Most of the class believed that proper resources are needed in all schools to help educate students better.  Some students said that students learn in different ways, and that teachers might need to pay more attention to this.
Overall, the deliberative democracy program was a very interesting way to learn.  Students were able to share their ideas and hear different perspectives on the subjects.  This is the type of learning that needs to take place more regularly in order to best prepare students to be critical thinkers in the 21st century.