Mocking It Up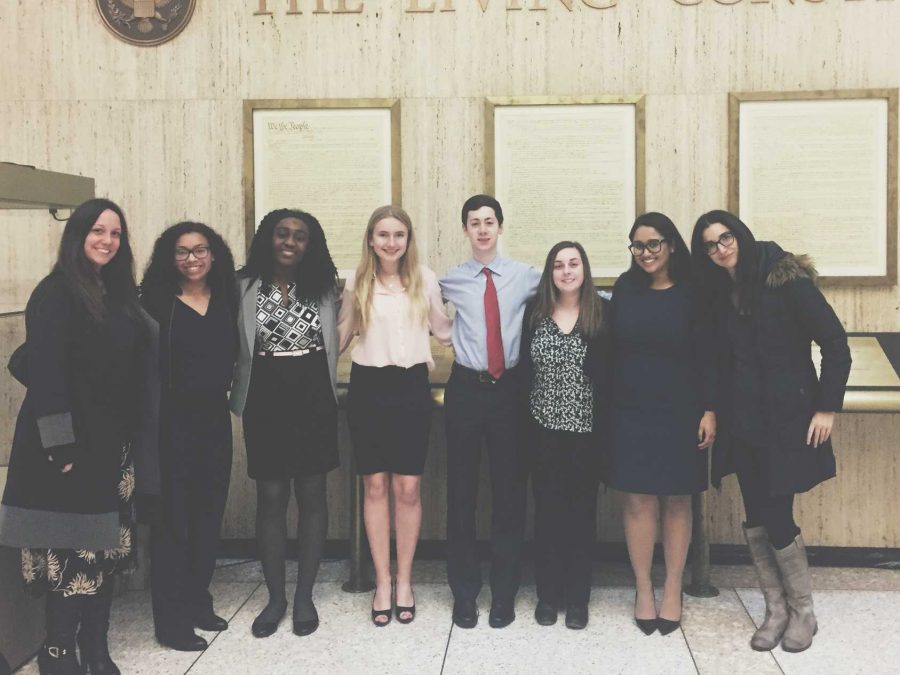 Sophia Ramcharitar, Senior Staff Writer
March 7, 2017
For the past five months, Floral Park Memorial's Mock Trial Team has spent copious amounts of time preparing for competitions in the months of February and March. This year, the team delved into the mock civil case, Robin Berkman vs. The County of Dover. Based off of a compilation of real-life cases, a teenager Robin Berkman was seeking punitive damages because she was maliciously prosecuted for a crime she did not commit.
Floral Park's twelve-person team split in two: the plaintiff and the defense. On the plaintiff side, Sophia Ramcharitar, Andrew Haneman, and Danielle Ashbahian represented the legal counsel for witnesses played by Gillian Demetriou, Beverly Bruno and Lia Russo. On the side of the defense, Victoria Lopez, Nisha Kassam and Brandon Rojas represented the legal counsel for witnesses played by Roopanshi Rampal, Anna Burnett, and Isabella Ramirez.
With guidance from their attorney-advisor Cynthia Augello and club advisor Ms. Linger, the plaintiff went up against Freeport High School's defense on February 8th at the Nassau County Supreme Court. After numerous direct and cross examinations, the judge ruled in favor of Floral Park's plaintiff. The following week, the defense competed against Baldwin High School. After this performance, Floral Park had made it to the second round of the state-wide Mock Trial competition.
Floral Park's plaintiff returned to the Nassau County Supreme Court on March 1st to compete against Crescent High School's defense team. The Floral Park students gave a great effort, but the judge ruled in favor of the defense.
Despite Floral Park's loss, members of the Mock Trial team were proud of the work they had accomplished in regards to the case.
"Wow, what an experience," said junior Victoria Lopez. "I learned so much about myself when preparing for this case. We really brought our points home to the other side."
"It was a very educational and great learning experience" said sophomore Danielle Ashbahian.
"I enjoyed becoming a part of a new club, learning about the judicial system, and getting to know people in the club better," said junior Anna Burnett.
"I was able to not only learn more about the steps in a trial but also about clinical psychology when playing an expert witness," said junior Beverly Bruno.
The team looks forward to returning to the courthouse next year, in which a criminal case will be presented.