Top of the Class of 2017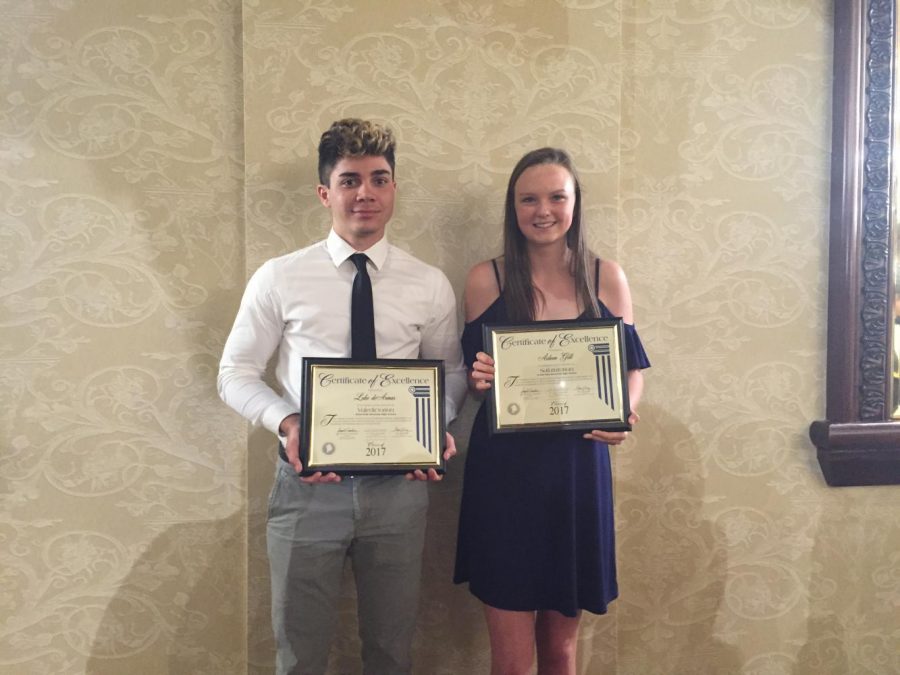 Luke deArmas – Valedictorian
One day.
That's all it took for Luke deArmas to come to the realization that he belonged back at Floral Park Memorial Junior-Senior High School, after spending the first day of his freshman year at Chaminade High School.
"I thought it was a better opportunity and a lot of my close friends were going," said deArmas. "The decision to go there was totally mine."
Four years later, deArmas will graduate from FPM as the valedictorian for the class of 2017. With a weighted average of 103.17, deArmas finished with the highest GPA of all five valedictorians in the Sewanhaka Central High School District.
"My parents did not put any stress on my," said the incredibly humble deArmas about earning this lofty accomplishment. "They were shocked."
During his years at Floral Park Memorial, deArmas has distinguished himself as a tremendously respectful, hard-working and conscientious student. Teachers praise him for his kindness, intellect and pleasant demeanor. He is modest about his achievements, and is universally praised by his peers. In addition to his extraordinary academic resume, Luke served as Editor-in-Chief to The Shield, treasurer of the Future Business Leaders of America, and was a member of the National Honor Society. He also found time to be a volunteer firefighter and member of Relay for Life.
"What distinguishes Luke from his peers is not only his outstanding academic achievements but also his humility," said Ms. Hayden, deArmas' teacher for 11th grade Advanced Placement English Language and Composition. "He is truly a gentleman and a scholar."
As a member of the varsity soccer team, deArmas was instrumental in helping the team win the first county championship in school history during his junior year. The Knights had a remarkable playoff run, culminating in its dominating performance over perennial power Jericho High School in the finals.
"The experience on the soccer team was my most memorable in high school," said deArmas, who scored two goals in a semi-final victory over district-rival Carey. "We were like a family. It was an incredibly close team. I will always remember the run to the Long Island Championship (a heartbreaking 1-0 double overtime loss to Amityville High School). I will miss the bonds just as much as playing, but I know we will talk about the experience for years to come."
With a transcript full of ten Advanced Placement courses, deArmas believes that one of the strengths of Floral Park Memorial is the faculty.
"The teachers are very personable and easy to talk to," said deArmas. "There isn't a cutthroat environment either. Students are all willing to help each other out."
One of the classes that deArmas emphasized as critical to his success was AP Human Geography. Taught by Ms. Canone, deArmas praised how she helped students make the transition from junior high to the rigorous world of AP classes.
"She made it easy to help students find a balance and learn how to manage your time," said deArmas.
Preferring a school with a warmer climate, the college decision came down to the University of Miami, the University of North Carolina at Chapel Hill and Vanderbilt University. While all three were places deArmas could see himself attending, he eventually chose Vanderbilt largely for its top engineering school.
"It's 15 minutes from downtown Nashville," said deArmas, who enjoyed the fact that the city has a professional football (Tennessee Titans) and hockey team (the Nashville Predators, fresh off its first trip to the Stanley Cup Finals).
When asked if he had any advice for younger students, deArmas simply said to remember that hard work does pay off. He also praised Floral Park Memorial as a place where "with all the AP courses, you can get a great education."
Aideen Gill – Salutatorian
As someone who competed on three sports throughout her entire high school career, Aideen Gill has often been asked how she was able to balance her academic and athletic responsibilities.
"Ironically, I have always found that these time constraints were what kept me structured and on a tight schedule," said Gill. "I believe that this is what allowed me to thrive both academically and athletically because I was always focused and maintained a healthy balance."
But Gill is not giving herself enough credit. As a three-sport varsity star and salutatorian for the class of 2017, Gill has been the epitome of the student-athlete. She could probably count on both hands the number of days that she was not after school preparing for a sport, while still earning extraordinary grades. She leaves FPM with a weighted average of 102.8.
"Aideen is one of the brightest and most passionate athletes I have ever had the pleasure of coaching," said Ms. Fitzpatrick, Aideen's varsity soccer coach. "She is always the last girl to leave the field after practice or a game. She is willing to do whatever it takes to help the team win."
Gill is a leader both in the classroom and on the competitive playing field. She is diligent, responsible and extremely motivated. Her academic work is flawless. She is a talented writer and has great abilities in math and science. She excels in all subjects with a relative ease, illustrating her remarkable intellect and passion to learn.
"I was able to find relatable, impactful teachers who went above and beyond to help me learn the material," said Gill, who enrolled in numerous Advanced Placement courses throughout her high school years. "The staff here guided me in my academic pursuits, but also taught me to strive to achieve even more."
In addition to her impressive academic resume, Gill was also the president of SADD, president of Leader Corps, and a member of the National Honor Society. She has received various awards (Most Valuable Player, Most Improved Player, All-County, All-Conference and Scholar Athlete) as a varsity soccer, basketball and lacrosse player.
"Aideen was the consummate team player," said Mr. Spina, who coached Gill in basketball. "She was a key reason why we were able to advance to last year's New York State Championship game. She played great defense, hustled all over the court, rebounded well and could always be counted on to hit a big shot. And her intelligence was quite evident on the court."
Gill has also found time to take classes at Columbia University on the weekend, part of a science honors program. Her curiosity and passion to learn has undoubtedly been a key factor in her mastery of so many subjects at Floral Park Memorial. Gill will continue her academic career next year at the University of South Carolina, where she will be a member of the prestigious Honors College. This school has recently been ranked as one of the top Honors College programs in the country. In addition to the strong academic reputation, Gill was drawn to the nice weather, southern atmosphere and school spirit. The team's men's and women's basketball teams both made the Final Four this past season.
Gill said she will have many fond memories from her time at FPM. She loved the competition in sports and the relationships she developed with all of her teammates and coaches. As far as advice for future student-athletes looking to enjoy a similar degree of success, Gill had this to say.
"The best way to approach your high school experience is to find balance that works for you," said Gill. "Every person has unique values and goals, you just have to decide what you really want."
"I would just like to thank my family and friends as well as all of the teachers and coaches who helped me along my journey at FPM," added Gill. "My accomplishments would not have been possible without an overwhelming support base and I'm forever grateful for what each of these individuals has done for me."
Best of luck to both Luke and Aideen. We will miss you.