Senior's Special Sojourn to South Korea
With the events on the Korean Peninsula at the forefront of the news cycle, an FPM student shares her firsthand experience
As tensions between North Korea and the United States over the proliferation of nuclear weapons continue to dominate foreign affairs, many Americans may find it surprising that South Koreans are not as concerned about this situation. Last month, Floral Park Memorial senior Amanda Apurado had the amazing opportunity to travel to South Korea, where she was immersed in the culture, food, and ways of life of the faraway nation. She did not detect the same level of alarm from the local population as we hear from the American media. I was extremely curious about Amanda's experience during the two weeks she spent there, so I decided to interview her for The Shield and share her international experience with the greater school community.
 Q: Why did you travel to South Korea?
A: "I went to South Korea because my job as a taekwondo instructor allowed me the opportunity to do so, as my boss wanted me to teach English taekwondo to the Korean taekwondo students. I also went to attend an International youth Taekwondo camp."
Q: Did you know anything about the culture of South Korea prior to traveling there?
A: "I knew to some varying degrees about the culture of respect because I myself am raised in an Asian household. I knew a little about the culture because my co-workers themselves are Korean. I also did the basic research on travel blogs or from blogs of exchange students. Otherwise no, I was not informed on the culture."
Q: What parts of the country did you visit? Did you have a favorite part?
A: "I traveled to 3 cities: Seoul, Busan, and Muju. I spent most of my time in Busan, and it became my favorite because I was able to stay with one of my co-worker's family there. I was able to learn the most about the culture and the basic livelihood of how people live in Korea. Busan felt the most authentic because there weren't that many foreigners. I was really able to explore around the city and see all the sights and walk on all the streets."
Q: Do you feel like you know more about the culture of South Korea after your trip?
A: "Definitely, the culture is so much more different than what I expected and what you hear on the news. And just going to a different country is such a learning experience. Your expectations are shattered and you see the real face of a country that you always imagined to be something different."
Q: Given the opportunity, would you go back?
A: "Is that even a question? Of course I would. There was so much more I wanted to do and wanted to see. I can only hope that I have the chance to attend the camp again next year so I can go back. Korea is a beautiful country with amazing people and fantastic food. I would definitely recommend going there once and hopefully, in my case, twice."
About the Writer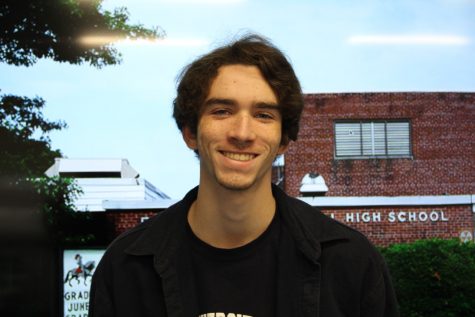 Owen Conway, Editor-In-Chief
Senior Owen Conway is this year's Editor-In-Chief for The Shield. Owen's love of writing and desire to improve his skills compelled him to join The Shield...