MLB Introduces New All-Star Voting System
Junior Alison Goldberg provides readers with her selections for the 2019 MLB All-Star game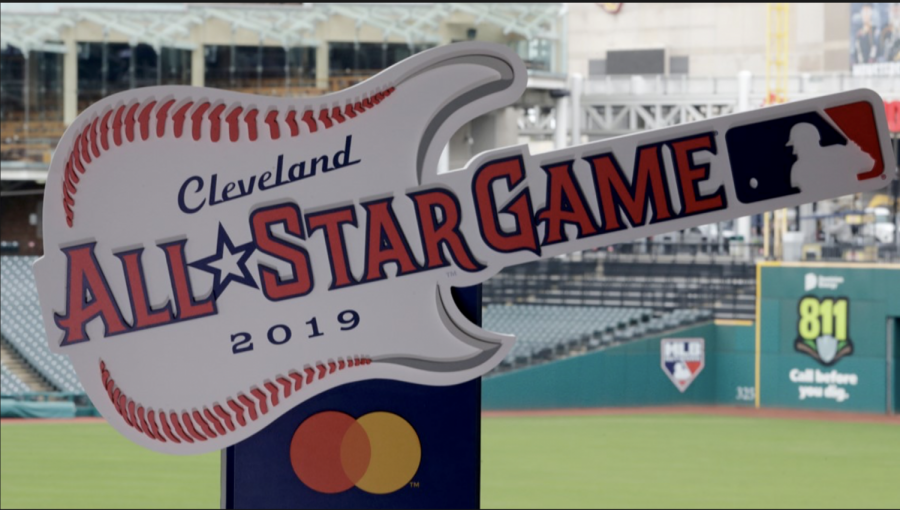 Alison Goldberg, Staff Writer
June 16, 2019
(As Shane Palma's days as Editor in Chief come to an end, The Shield will be desperately searching to fill the void for its resident sports expert. Junior Alison Goldberg appears ready for the challenge in her final installment for 2019.)
The 2019 MLB All-Star game is just around the corner and there's a brand new voting method being used this year to select the participants.
Earlier in the season, each team nominated one player for each infield position and three for the outfield. In addition, the American League clubs nominated one designated hitter. There will now be two phases for the voting. In the first phase, the top three players for each infield position and DH, and the top nine players for the outfield, will be determined by fans voting from June 12 until June 21. Fans can do so online as there are no longer any paper ballots. Once the top players are determined, they will be announced during the live broadcast of the game between the Houston Astros and New York Yankees (a potential ALCS preview?). The starters will then be selected from this list with voting taking place from June 26 to June 27.
Fans can vote five times in a 24-hour window during the first phase but only once during the second phase. The pitchers and reserves will now all be selected by a combination of player ballots and the commissioner's office.
This year's MLB All-Star Game will take place in Cleveland's very own Progressive Field. Judging by the past, one of the home field team's starters will likely start this game. The Cleveland Indians have been off to a bumpy start. The team's highly-regarded rotation has taken a couple of hits. Corey Kluber is yet to return after hitting the IL on May 3. He suffered a fractured right forearm after being hit by a batted ball. His cast was removed on May 23, but he has yet to pick up a baseball so his chances of making the team are non-existent.
At the beginning of the season, Mike Clevinger looked primed for his breakout season. But after two starts of giving up zero runs, he hasn't appeared since April 7, when he was removed from his game with back pain. He too was placed on the IL and told to not pick up a ball for six to eight weeks. But the timeline for his return has gone faster than expected. Clevinger shockingly played catch at 60 feet on Tuesday April 30. He advanced to playing catch at 90 feet three days later. Another three days after that, Clevinger was playing catch from 120 feet. Eight days after that, Clevinger threw a 20-pitch bullpen session. He threw a simulated game on May 28 and is now scheduled to start Cleveland's game on Monday, June 17. If Clevinger continues to dominate after his return, there's a significant chance of him earning that coveted starting All-Star nod. Unfortunately, the rest of the rotation – Carlos Carrasco, Trevor Bauer and Shane Bieber – have not done nearly enough to warrant consideration.
In the National League, the most dominant and consistent pitcher this year has been Hyun-Jin Ryu. Ryu has a sparkling 1.48 ERA over 73 IP with 69 strikeouts. Although Ryu hit the IL earlier in the season with a strained left grown, it clearly isn't taking a toll on his pitching as of late.
As for the rest of the selections, here are my predictions. I will do my best to avoid any bias in my decision making.
FIRST BASE
American League: Carlos Santana – Cleveland Indians
National League: Pete Alonso – New York Mets
Santana has stood out to me this year more than any other player. He has definitely found comfort in the American League. Alonso has been absolutely phenomenal offensively. For a rookie who was projected to be a concern defensively, Alonso has been outstanding.
SECOND BASE
American League: Whit Merrifield – Kansas City Royals
National League: Adam Frazier – Pittsburgh Pirates
Merrifield is fast, he rakes and is excellent defensively. He is a perfectly well-rounded player. Frazier has not been discussed much this year, but is very much under the radar as a budding star. He has been great offensively and defensively.
THIRD BASE
American League: Matt Chapman – Oakland Athletics
National League: Nolan Arenado – Colorado Rockies
After establishing himself as one of the game's best defensive players, Chapman is emerging as quite an offensive threat as well. He is slashing .272/.355/.558 so far this year. I am pretty sure that the selection of Arenado needs no explanation. He continues to be one of the game's best at the position.
SHORTSTOP
American League: Francisco Lindor – Cleveland Indians
National League: Trevor Story – Colorado Rockies
After starting the year on the IL, Lindon has been red hot. Once again, another great defensive year for Mr. Smiles as well. He is hitting .293/.363/.484. Story is arguably the best hitting shortstop in baseball. He can do it all.
OUTFIELD
American League: Joey Gallo – Texas Rangers, Mike Trout – Los Angeles Angels, Michael Brantley – Houston Astros
National League: Cody Bellinger – Los Angeles Dodgers, Jeff McNeil – New York Mets, Christian Yelich – Milwaukee Brewers
Gallo has been outstanding offensively, yet doesn't always get the attention he deserves because he plays for a rebuilding team. Trout, nothing need to be explained here. And Brantley has been one of the best free agent signings from this off-season. He has been a consistent starter for one of the best teams in the league. Bellinger has been a fantasy lottery ticket for anyone who drafted him this year. After striking out too much in his first stint in the majors, Bellilnger has been punishing pitchers. As one of the most underrated players in the league, McNeil deserves serious consideration. He is a great contact hitter who also plays spectacular defense. The reigning MVP, Yelich, continues to play like one and is almost guaranteeing that the trophy remains in his house.
CATCHER
American League: Robinson Chirinos – Houston Astros
National League: J.T. Realmuto – Philadelphia Phillies
Chirinos has been excellent since signing with the Astros (GM Jeff Luhnow sure does know how to put a team together). He slashing .245/.368/.489. Realmuto is universally praised as the best catcher in the game, and is doing nothing this year to dispel the notion.
DESIGNATED HITTER
American League: Luke Voit – New York Yankees
For a team with an abundance of injuries, Voit has provided the team with an incredible performance that has the team in first place.