End of an Era
Mr. Simone says goodbye and good luck to one of the all-time great members of The Shield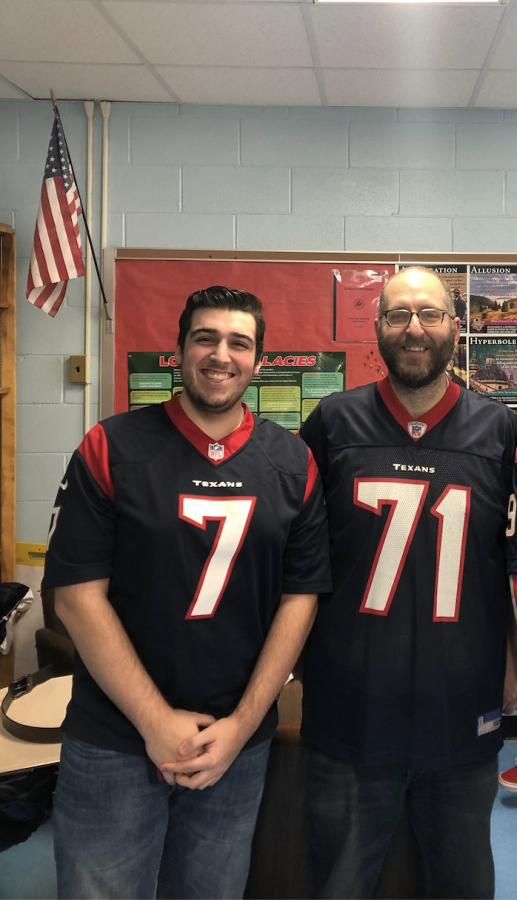 Mr. Simone, Advisor
September 16, 2019
Shane Palma absolutely deserved better than this.
Having graduated in June as a member of Floral Park Memorial's Class of 2019, I promised Shane a fitting tribute to his unparalleled time as the editor-in-chief of The Shield. As you can deduce from the date of this article, I am a little late in fulfilling my guarantee. There are, however, plenty of excuses I can offer to justify the lengthy delay.
I could blame it on the technical difficulties that we encountered with our host company at the end of the school year. 
I could tell you about the 50 pages of writing I had to complete for my doctoral studies this summer.
Or I could claim it was a sarcastic joke I was playing on Shane, who often complained that I was not able to publish his articles in a timely enough fashion. 
But in all honesty, I think subconsciously, I avoided writing this article because doing so was an admission that my time working with such an extraordinary individual was officially over. And I was simply not ready to say goodbye to Shane Palma, a young man who distinguished himself as much as any student I have encountered in my 25 years at FPM.
My first interaction with Shane was when he was a student in my 11th grade Advanced Placement United States History course. He was a fine student – polite, hard-working, intelligent and respectful. But it was when our discussions after class gravitated toward the topic of sports that I realized just how talented and impressive he was. His love of the New York Yankees and my long-time dedication to all things "Houston" was about to get extremely contentious. My Houston Astros and his Bronx Bombers were part of an epic ALCS, seven-game series, with the Astros just barely coming out on top. I am sure that part of Shane was a little resentful, as one would expect of any true sports fan. And the fact that the Astros went on to win the first World Series in franchise history certainly didn't make it any easier for Shane to be in my presence, let alone work with me as part of an extracurricular activity. But Shane proved to be the consummate professional journalist, putting his responsibilities well before his heart. 
What transpired over the next two years was simply the most impressive work ethic I have witnessed from a student in any extracurricular activity. When I recruited Shane to join The Shield, I knew he would do well and work in some capacity, but I never imagined that it would be the beginning of what I guarantee will be a journalism career that will one day make the name Shane Palma famous.
As soon as I extended the offer to Shane, I began receiving article after article in my inbox, sometimes more than one per night. He was writing at such a feverish pace that I felt compelled to reward him with the title of sports editor. At the end of his junior year, it was a foregone conclusion that Shane would become the next editor-in-chief. Shane's innate journalistic ability is obvious to anyone who has read his articles or listened to his podcasts. 
His articles are well-researched and enjoyable to read. Shane possesses an uncanny journalistic ability to identify the angle of the story and clearly present it to the reading audience. While he has been willing to write about any subject, Shane's passion undoubtedly lies with athletics. Shane understands the intricacies of sports and he is able to use this knowledge to elevate the quality of his articles. Shane is determined and committed to honing his skills as a writer. He is never satisfied or complacent about his accomplishments. I am enormously pleased with how receptive he is to my edits and feedback as well. 
There are not nearly enough superlatives I can use to describe how remarkably impressed I was with Shane's efforts working for The Shield. I enjoyed our time together and appreciate how he motivated and inspired me to be a better advisor. As the Yankees and Astros gear up for another legendary battle (one that I predict will continue for the next five years), I am sure that I will be ridiculed by Shane after every Aaron Judge home run or Luis Severino strikeout. (Although full disclosure, Shane did tell me that the Astros would win the World Series after the Zack Greinke trade.)
Shane, I am envious of your current and future professors at the University of Missouri. The School of Journalism at Missouri has such an outstanding reputation. As I told you in person, I will now be a Tigers fan for life. Go Mizzou!
So first, please accept my sincere apologies for the enormous delay of this article. Second, thank you for making a profound impact on the future of The Shield. We will do everything possible to maintain the high level that you established, and hopefully continue to build the quality of the product. But most importantly, continue to prove me right as I predict that it is not a matter of if, but when, your name will be listed in the pantheon of premier sports journalists. If I had to be correct about one prediction, I would prefer that to another Astros World Series.