Champion World Problem Solvers
The FPM Model United Nations Club is honored for its performance at the William and Mary Conference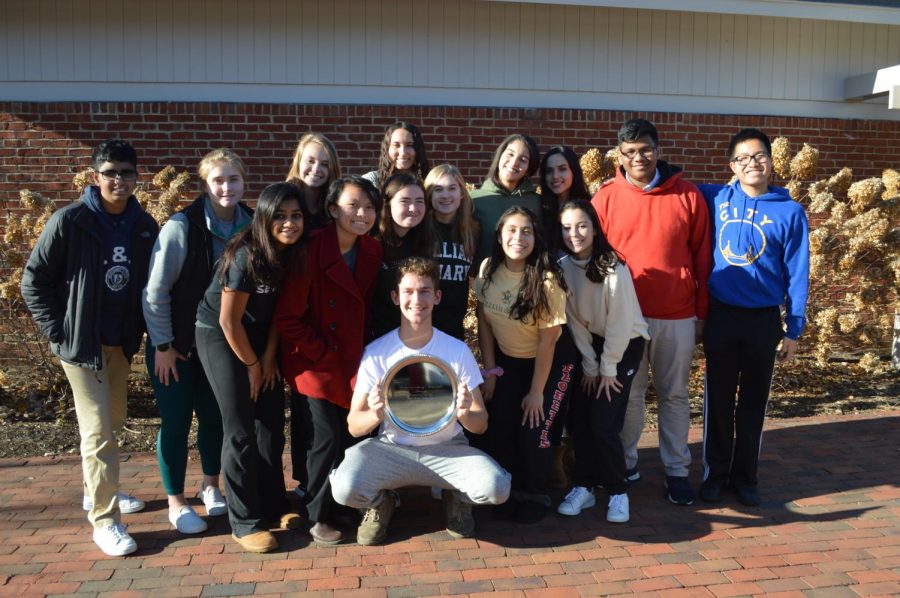 Kathleen McInnis, Staff Writer
December 8, 2019
If the leading negotiators in the world would like some advice on how to address some of the more critical issues confronting societies today, they may want to spend some time with Mrs. Francis and the members of the Floral Park Memorial Model United Nations club.
On November 21, 15 students traveled to Williamsburg, Virginia to compete at the 33rd annual William and Mary High School Model UN Conference. These delegates, from grades 10-12, worked in committees that focused on tackling a wide range of world issues. At the conclusion of this incredibly challenging and intellectually engaging event, the entire team from Floral Park was awarded Best Small Delegation, the highest honor a school in that student population category can win.
"Winning individual awards is always amazing but winning a group award was a whole new level of pride," said sophomore Hannah DiMaggio. "We all work so hard so when everyone gets recognized, it's the best feeling."
Students begin their Model UN careers volunteering for a class that meets during 0 period. Mrs. Francis does an outstanding job teaching them the basic foundation of parliamentary procedure in order to prepare them for the grueling competition at these events. Not all students stay with the club, but those who do always come back to express just how valuable the Model UN experience has been for their work in college and beyond.
This year's group kicked off the trip with a visit to colonial Williamsburg. The students and Mrs. Francis took tours of the Governor's place, the Anderson Blacksmith Shop and Public Armory, the Capitol and the Carpenters Yard.
"Visiting colonial Williamsburg is always one of the highlights of the trip for me," said junior Jacqueline Kelly. "I always seem to learn something new every year, and it's always so fascinating to me how people lived back then."
Over the next three days, the delegates participated in intense debate and collaboration to resolve pressing issues. Some of the topics included the Haitian Revolution, working with the Center for Disease Control to deal with the outbreaks of disease, and debating the rights of elves in the Harry Potter universe.
On the final day of the conference, tensions were high as closing ceremonies approached, and the Floral Park students were hoping to be rewarded for their impressive efforts.
"Closing is always super nerve racking but also super exciting because we all know that we have a chance to win," said junior Sophia Ponce.
As awards were announced, Floral Park managed to take home five individual awards. Ponce and DiMaggio won best delegates in their committees, while senior Harry Schlechter won outstanding delegate, senior Roopanshi Rampal won honorable mention and junior Marwa Alami won verbal accommodation.
"I am so proud of all the students," said an elated Mrs. Francis. "They worked so hard and represented the entire Floral Park community brilliantly."
Congratulations to everyone involved for a job well done. Now if we can only have the same successful level of discussion at diplomacy on the real world stage.