Dancing Their Way (Almost) To The Top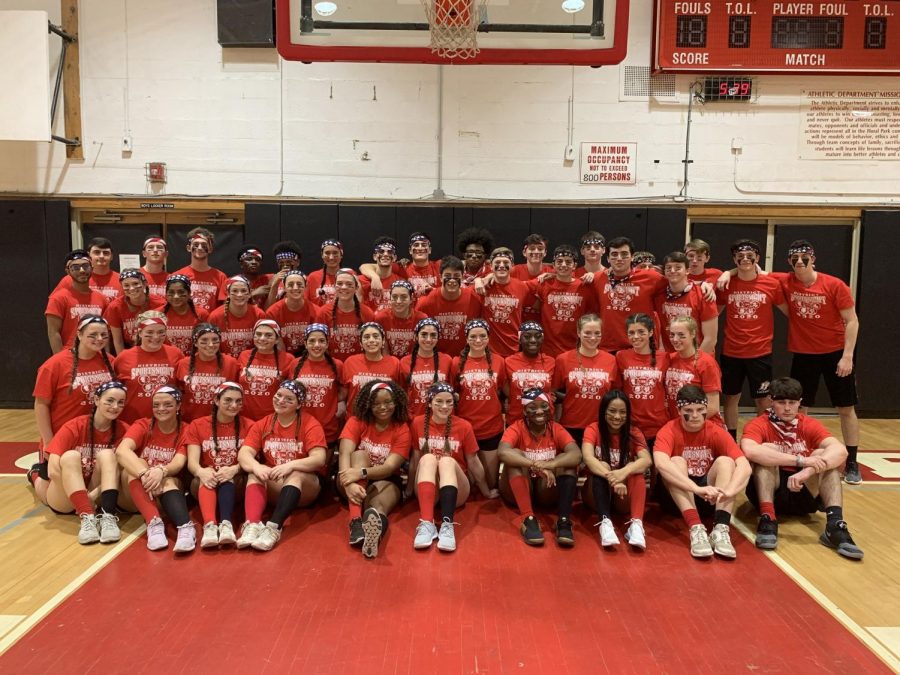 Brianna Criscitelli, Staff Writer
March 6, 2020
On Wednesday, March 4, many juniors and seniors were fully decked out in red and white.
In one of the most highly anticipated days of the school year, the annual District Sports Night competition brings all five schools of the Sewanhaka Central High School District together at Carey High School. And this year, the Floral Park team had an outstanding showing, finishing second to the eventual champion New Hyde Park.
The Knights competed in several events ranging from tug of war, the scooter race, cage volleyball, the obstacle course, hit the deck and over under. But the highlight of the evening was Floral Park's first-place finish in the dance and exercise routine, quite an impressive feat.
"The energy was palpable," said Ms. Ochoa, foreign language teacher and one of this year's coaches. "You could hardly hear the music."
This year, 48 FPM students from grades 11 and 12 participated in the enjoyable event.
"It seems like everyone put a lot of work into the performance, and took it very seriously," said junior Meagan Boettcher.
Year after year, Floral Park student-athletes, who are accustomed to the school's impressive performance in numerous varsity sports, joke about their "fifth-place curse" at DSN. But behind the stellar coaching of Ms. Ochoa and Mr. Spano, this year's team thoroughly outperformed those low expectations. The crowd was ecstatic and enthusiastic all night long, while the team and coaches were extremely proud of their performance.
"I am obsessed with what we accomplished," said Ms. Ochoa.
Hopefully next year, the Knights can take that elusive top spot. In the meantime, we will all head to SUNY Farmingdale on Saturday to watch our girls' varsity basketball team try to win another county championship.