Nineteen FPM Students Experience All That Spain and Portugal Have to Offer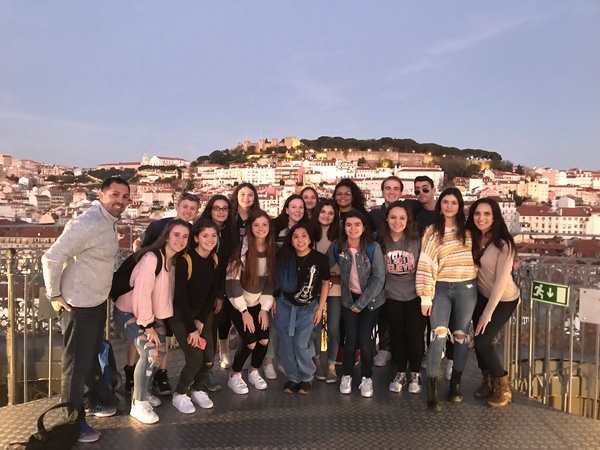 Alison Goldberg, Co-editor in Chief
March 12, 2020
This past February break nineteen students and three teachers from Floral Park Memorial had the privilege of taking on not one, but TWO beautiful European countries.
The trip began on February 13th and ran through all of the February break and concluded on February 22nd. It was quite an eventful ten days! The trip began right where the plane landed, in Madrid, Spain. There, we explored the crowded and bustling streets. We took in a breathtaking view of the amazing architecture at the National Palace of Madrid and then experienced a ride on the Spanish subway to the stadium where Real Madrid plays! Our second day in Spain was spent at the world famous Prado Museum.
After Madrid, it was time for a train ride! We woke up bright and early to catch our 8:30 am train. After around 2 hours, we arrived in Córdoba, Spain. Let me just say, we were ALL mesmerized by the incredible architecture there! The Muslim mosque built inside of a Catholic Church, the Mezquita, was absolutely incredible. After our day spent in Córdoba, we headed on to Seville!
During our evening in Seville, we devoured Tapas. It was amazing to be able to experience so much of the Spanish culture like this meal! We then visited Las Setas. Once again, this was an awesome architectural masterpiece. This piece of architecture resembles a HUGE mushroom and we walked around the top of it while taking in the view. On our next day in Seville, we had a private tour guide show us all around the ins and outs of this beautiful city! We soon felt like citizens of the country when we got to learn a traditional Spanish dance, right in its city of origin. It was an honor to learn The Flamenco from a native professional!
Our final stop in Spain was Merida. Here, we toured the ancient ruins and Roman amphitheater. The enthusiasm of the day spiked when we participated in a fun and interactive Scavenger Hunt in this small city. After running around capturing our pictures in front of the various sites, we were eager to move on to our next location.
After a few hours of travel, we arrived in our next country, Portugal! The day was off to an amazing start when we got to see the Triumphal Arch! The square that it led into was beautiful. We also got to hop on the Elevador de Santa Caterina where our breaths were swept away by the view of Lisbon. Our next day, in Lisbon, began with a tour of the Castelo de S. Jorge. That was followed by a short bus ride to the Belém District where our tour guide showed us around Jerónimos Monastery. Our afternoon here turned into one of the most memorable parts of this trip. We had the opportunity to take a bike tour along the water and into the city of Lisbon. Taking in the beautiful scenery upon a bike (or TukTuk) was truly the best way to see Lisbon! Our last day was spent in Cascais and Sintra, Portugal. We enjoyed the beachy view in Boca do Inferno and tried some delectable ice cream at Santrini Gelateria. We were soon reunited with our tour guide from the prior day, in Sintra. She showed us the Moorish Castle and guided us through the National Palace there.
This trip was definitely filled with many memorable experiences and cultural activities. Our school chaperones and local tour guide truly did an amazing job. I look forward to the opportunity to experience this amazing continent and all it has to offer again!