Cooking With James – Chick and Rice with Cheese
Chicken and Rice with Cheese (serves one):
1. Take a small/medium sized chicken breast, mine was about 8OZ, and cut it into small pieces.
2. You can season how you like, but I found the best results with seasoning with a bit of each of the following: Sea Salt, Garlic Powder, Black Pepper, Onion Powder, Cayenne Pepper, Paprika, Cumin, and Oregano. (I actually made a lot of this seasoning all at once, so that I don't have to make it whenever I make this meal).
3. I cooked my chicken in an air-fryer on 400 degrees for 7 minutes. If you don't have an air-fryer, you can cook it on a skillet.
4. While your chicken is cooking, you can make you rice! I used 1⁄2 of a package of Uncle Ben's Spanish Style Ready Rice since you just need to microwave it, and it is very convenient.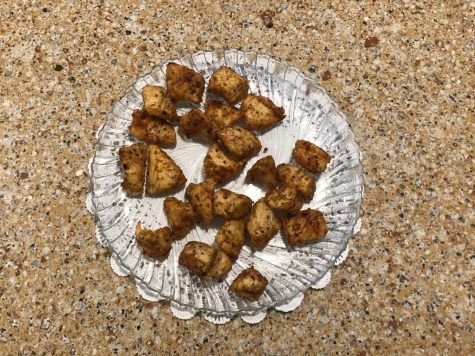 5. Now that your chicken and rice is all ready, put your rice in a bowl and put your chicken in, and mix it up! Add your cheese on top, and put it in the microwave for about 20 seconds.
6. Optional: add hot sauce for extra spice and flavor!
7. Serve and enjoy!