Major League Baseball Celebrates Hispanic and Latino Culture
As the influence of Hispanic and Latino players rises in sports throughout the United States, the big question is, what has Major League Baseball done to help spread the Hispanic and Latino culture in 2021? Major League Baseball, which has a staggering 25 percent of its players who are Latino, has committed to honoring Roberto Clemente every September where each club is allowed to nominate 1 of its players for a chance to win the Roberto Clemente award. This award "is bestowed annually to the player who best represents the game of baseball through extraordinary character, community involvement, philanthropy and positive contributions, both on and off the field." Multiple clubs have also celebrated on different occasions to commemorate and celebrate the Hispanic and Latin culture.
The Cincinnati Reds celebrated Hispanic Heritage Month with their annual Hispanic community night, "Fiesta Rojos." Players and coaches would honor the Hispanic culture by wearing special Los Rojos jerseys. Guests from the "Amigos de Los Rojos" program also attended. Ceremonies featured members of Cincinnati's Hispanic community, including a live band and DJ, honor guard with flags from Latin countries and the national anthem. The first 15,000 fans were given a commemorative baseball card of the Hall of Famer Roberto Clemente. Reds star Joey Votto was honored as Cincinnati's nominee for the Roberto Clemente award and was awarded with a check of $7,500 dollars which will go to the Freestore Foodbank.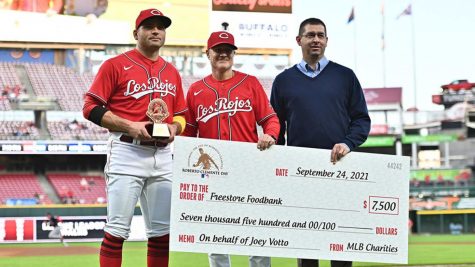 The Seattle Mariners celebrated their Hispanic Heritage Day on September 12th. During batting practice, all players and coaches wore "#PonLeAcento" T-shirts in celebration, with the phrase meaning "to put an accent on it." The pregame featured a special performance by Bailadores de Bronce and a ceremonial first pitch by former Mariners pitcher, Joel Piñerio. Fans were also given a chance to buy specially discounted tickets.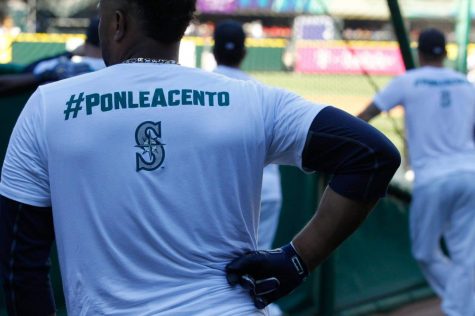 As new waves of Hispanic and Latino players enter Major League Baseball and dominate the sport with names such as Fernando Tatís Jr and Juan Soto Over recent years Major League Baseball has learned to embrace and help spread the culture of Latin Americans.