Big Maple To The Big Apple
Hang on for a minute...we're trying to find some more stories you might like.
It's not even Thanksgiving and my offseason wish has already been granted!
If you read my Yankees offseason prediction article not too long ago, I identified three pitchers I wanted the Bombers to target: Patrick Corbin, Dallas Keuchel, and James Paxton. The first two are free agents and would need to be signed but Paxton would more than likely cost the price of prospects. An outfield loaded with talent, I was willing to give up Clint Frazier. He's a promising player with star potential but has yet to prove himself on the field on a consistent basis, somewhat as a result of a concussion that sidelined him for part of 2018.
Another name that got thrown around was the team's best overall prospect, Estevan Florial. Already garnering comparisons to a young Barry Bonds, Florial is a game changer but again plays the outfield. Given the abundance of offensive firepower on the current roster, I felt that both Frazier and Florial were expendable. But Justus Sheffield was a prized pitching prospect that I was much more reluctant to surrender in a trade.
Of course, he became the headliner in a blockbuster deal for Mariners' ace, and Canadian born, James Paxton.
As much as I would have liked to develop Sheffield, the move makes sense. The Yankees are looking to win now and can't continue to wait for the future. Paxton, while 30 years old, is still under arbitration control and will not become a free agent until 2021. A top-15 starter in the game making less than $5 million a year? Sign me up right now.
This is likely just the first of several moves the Yankees will make this offseason as the franchise with the most World Series titles in MLB history attempts to overtake the two most recent champions, the Houston Astros and Boston Red Sox. As it currently stands, a rotation of Paxton, Luis Severino, Masahiro Tanaka, CC Sabathia and (for the moment) Jordan Montgomery is certainly good enough to make the playoffs and even advance a round or two. But I am still waiting, and hoping, for the addition of Patrick Corbin as a free agent to give the team a legitimate shot at ring number 28.
Check back with The Shield for my continuing updates on the major moves during this much hyped, and long anticipated, offseason.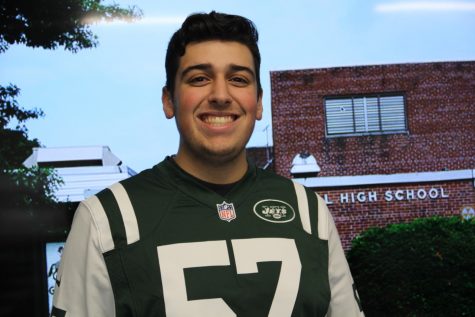 Shane Palma, Editor in Chief
Shane Palma is a senior at Floral Park Memorial and is excited to finish out his high school career with The Shield. After joining the newspaper last year,...