Shane's "Daily" Column – I Don't Mix Well With Athletes and Social Media
Shane has another "battle" but this time with a far better, and faster, athlete
"Shane, you said this was a daily column and that there would be a new article up everyday! It's been a week and nothing!'
I know, I know, it's my bad and I take full responsibility for not living up to my promise (although I did warn you). I usually don't find it too difficult to sit down and churn out one piece after another. There are some days where I even feel like I could write three articles, design a website, start another YouTube channel, and record six podcasts. That's just how my creative juices flow.
But nothing came to me this past week and force me to say, "wow, I should probably write an article on that."
The New York Jets were trending for awhile on Wednesday with the firing of general manager Mike Maccagnan, but my frustration with the franchise didn't translate into proper words when I sat down at my laptop. You most likely would have looked at a scramble of capital letters moshed together with eyes as big as Adam Gase's. Aladdin also came out this past Friday, which of course I had to see. And while I could have done a review similar to how I broke down Rocketman, my criticisms would not be earth-shattering nor entertaining to read. Will Smith was a fantastic Genie and frankly that is all there was to write.
However, I finally have another story you might enjoy. For those of you who keep up with my articles on The Shield, you might recall that roughly a week and a half ago I put out a challenge to Pat McAfee. The former punter for the Indianapolis Colts was attempting to show off his basketball skills on his Instagram page, so I quickly shattered his confidence by stating that I could beat him. He too briskly responded for me to stop it, or in other words "get off my social media you attention seeking troll." With my final message back, I asked that my challenge be accepted and we pick a date to play. Since I never received an answer (after filming a mini documentary coming soon), I placed my basketball sneakers back in the closet and proceeded with my usual internet life.
Scrolling and repeatedly liking similar posts for hours can get both tedious and tiring. I can't tell you how many times I watched Kawhi Leonard's buzzer beater against the Philadelphia 76ers with the same emojis and comments beneath the video. But this past weekend I saw a different type of post by CBS announcing that the NFL would be hosting a 40-yard dash competition to take place during the summer. Skimming through the list of names, I immediately had Robby Anderson's vote as a player who could walk away the winner (no bias as a Jets fan there, I promise). Notably absent from the list was third-year wide receiver John Ross of the Cincinnati Bengals. Touted by many as the fastest player in the league, Ross broke Chris Johnson's 40-yard dash time at the combine back in 2017 with a blazing 4.22 seconds. Selected as the third wideout off the board in that year's draft at selection number nine, Ross has never quite lived up to his hype. With a laundry list long of injuries since his debut, it has been difficult for Ross to put together a breakout season and prove everyone wrong.
The number one comment on the post when it was released simply said, "Where John Ross." Trying to be funny and maybe get a few likes, I replied, "he got hurt looking at  this list." Clever, I know, but my response was honestly just a knee-jerk reaction and I didn't expect much of it. Fast forward an hour later. After winning a grueling 12-inning game in MLB The Show, I noticed that my phone had EXPLODED with messages, likes, follows, all coming from Instagram. Puzzled, (because I legitimately forgot what I had done), I noticed an account by the name of @_jross3 had responded with, "chill 😂." Once again I was caught off guard by a professional athlete responding to a stupid comment I made on social media. Now I may have exaggerated when I said last week that the McAfee answer received a lot of attention, because it didn't. But this time, I'm not lying. Unlike that comment, I never tagged John Ross, he just also happened to be scrolling through Instagram and see my name pop up.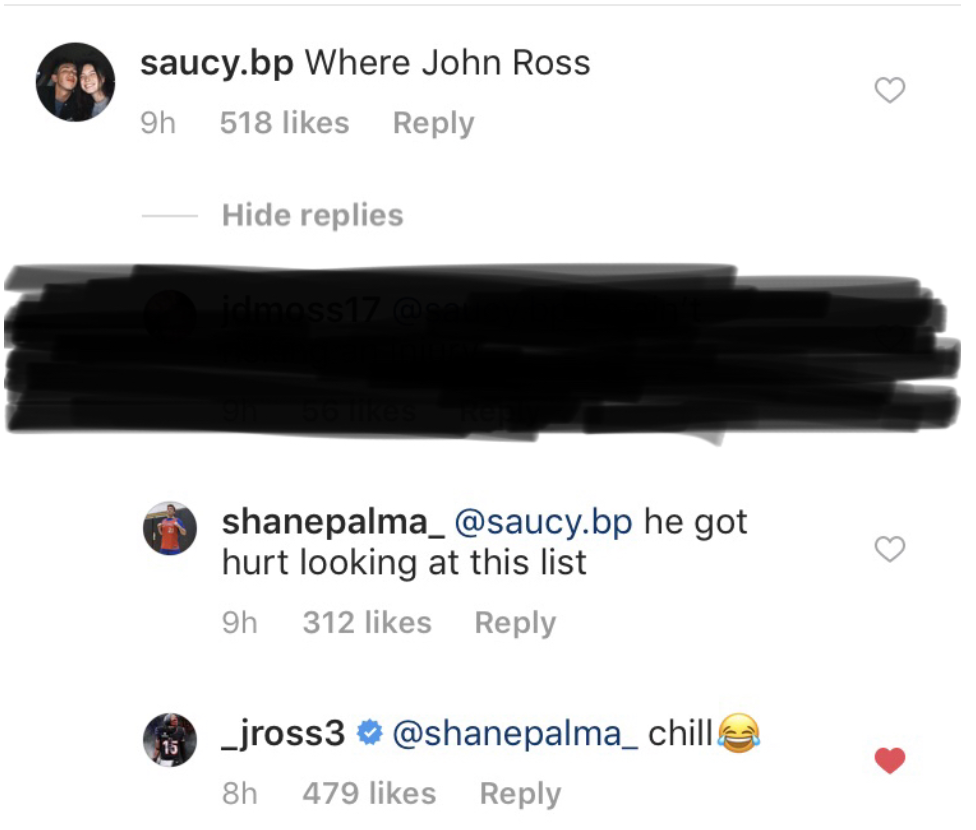 Unsure of how to handle this spotlight, I sent back, "If ur good, let's have a race." He was so obviously afraid of my elite speed that he declined to ever answer my second challenge put forth to famous individuals. I won't start the movement #RossVsPalma, (unless you want to help kickstart the process), but I can say that before I leave for Missouri, at least one person will step up to the plate and take my offer.