My Reflection As An FPM Journalist
Former editor-in-chief Shane Palma says goodbye to Floral Park and hello to Missouri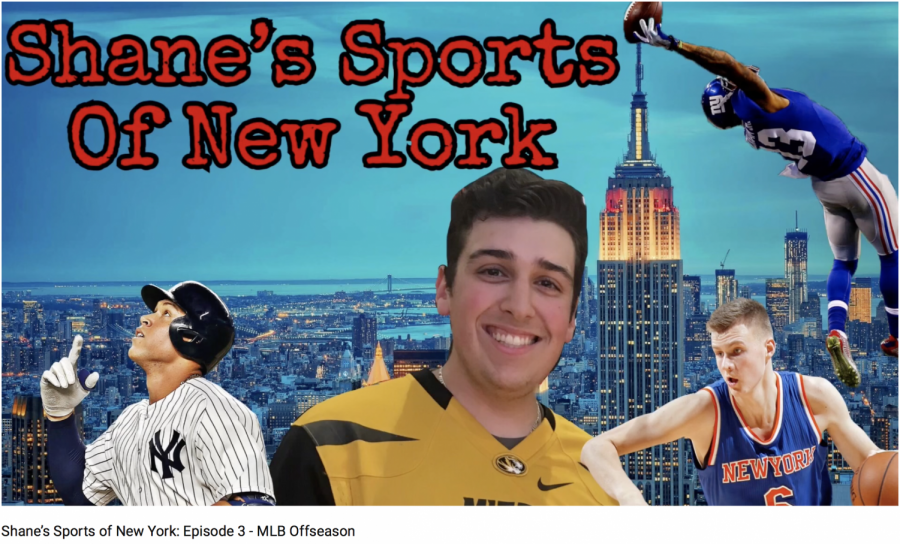 I never wanted to be a journalist. 
I know, "great way to start this article Shane." But I'm sorry, it's completely true. It was all about FINANCE, BUSINESS, MANAGEMENT, LAW SCHOOL because that's seemingly all that was ever told to me. My heart, though, was always in sports. I just never felt passionate about sitting at a desk and crunching numbers to the tune of clacking keys on a calculator. This would end up being my fate, and career path, stuck doing something I would regret for the rest of my days… if it wasn't for Mr. Simone.
Eleventh grade was a whirlwind of a year, just like any other in high school. College visits, standardized tests, and a whole heck of a lot more Advanced Placement classes. One of those courses was United States history, a subject I was typically sound with, but like anything else, one I knew there was much more to learn about. The man who taught this class was an enigma to me until this point, one of those folktales you don't believe is real until the Leprechaun shows up in your backyard. His unique and vibrant style of teaching was mostly reserved for the older students at Floral Park Memorial, but thankfully, my time had finally come to meet Mr. Simone. Our first conversation was just like any other you would find us having to this day. I badmouthed the Texans and he ridiculed the Jets. Maybe it was my ever-changing attire of a new jersey, or my constant clammering to Jim Ollen behind me during his class about what the Mets did wong the night before, but Mr. Simone had a pretty strong intuition that I enjoyed following professional sports. One day he announced that the school's newspaper, The Shield, needed new writers and asked me to take a stab at coming up with a recap for the Jets win the day prior. I simply answered "sure", and typed up a two-paragraph piece that night. Looking back at it now, it was far from the quality of work you would be used to seeing from me today. Rough around the edges, short, and a whole lot of numbers with not enough connection to the readers. But that's to be expected from anyone's first article. When it was finally published a few days later, I noticed quite a few changes that caught me off guard. The title was altered to something shorter and catchier, the transitions flowed perfectly throughout, and a hint of his dry sense of humor was added in to wrap it all together. I loved it. And from then on we became a dynamic duo of writer and editor, attempting to resurrect the Floral Park school newspaper.
After only a few articles, I was fittingly promoted to Sports Editor, as that's all I seemed to talk about. But with that title came new responsibilities, such as representing every major professional sport while also covering the athletic teams at FPM. 
Out of the four widely recognized American sports industries, hockey was one I refused to touch. The names were too difficult to pronounce and honestly, I couldn't follow the puck up and down the ice. Despite my irrational hatred, the Floral Park community had a strong following for the New York Islanders and the team's inevitable move to Belmont Park forced my hand, compelling me to learn the ways of the Canadian game. Thanks to my friend Robert Stewart, a diehard Washington Capitals fan from Virginia, hockey has to this day overtaken basketball as my third favorite sport to watch. It's fast paced and unpredictable, (the upsets in this year's playoffs were unprecedented). In addition, belonging to a fourth major fan base has brought about more connections and camaraderie (cheers Vegas!) Although, the Floral Park Knights supporters could give some teams like the Florida Panthers a run for their money.
Unfortunately, I never had a chance to make it to every sports game played at FPM over the course of the year. But the ones that I did happen to catch were memorable in every sense of the word. This includes the boys' varsity basketball team's incredible run to the Nassau County Class A Championship game in 2018 where the Knights fell just short of taking home the school's second county title. The 74-68 double overtime heartbreaking loss to Garden City is a game anyone in attendance at SUNY Farmingdale will be talking about forever. Even though the Floral Park football and baseball teams didn't enjoy the same level of success, covering and playing (yes, I "played" on the varsity baseball team) these sports still made for some great articles. 
As I mentioned before, venturing away from sports was not something I typically did. Besides my attempts at reviewing Venom and Rocketman, I typically used The Shield as a way to vent my frustrations with New York sports. Whether it was a rant on Aaron Boone's inability to use the Yankees' bullpen, or a letter to Kirk Cousins when he chose to play in Minnesota over New York, I feel that I balanced my anger with entertaining reads quite nicely. Contrary to my typical style of writing, not all of my articles started off as words on paper but rather video edits done for my broadcast journalism class.
Here is where Mr. Demmers deserves a very special shoutout. Without him, half of the work that I've done up to this point in my life would not exist. Last year, I came up with an idea to start a course that would teach students how to become a reporter, journalist, and broadcaster. The ultimate goal was to produce news segments that would air throughout the school that echoed announcements while also providing insight into the lives of faculty and community members. Special guests often popped into class, including former WWE commentator Matt Striker, 60 Minutes Executive Producer Kate Morris, and St. John's Communications professor Mike Rizzo. The students learned how to edit news pieces, film in front of green screens, and write transcripts to be read by other anchors. I hope that this class continues even after I depart, similar to my ever-growing podcast.
Who could forget Shane's Sports of New York?! I've already had the chance to speak with a multitude of premier guests. From New York Redbulls Head Coach, and Floral Park resident, Chris Armas, to Barstool Sports Bloggers Tom Scibelli and Eric Hubbs, to Denver Broncos Wide Receiver Chad Hansen, the SSONY brand has only been on the rise. With help from friends Elle Wigder and Pat Fagan, I'm able to publish weekly episodes breaking down everything from the Yankees to the NFL Draft. Being someone who's never wanted to be seen on stage for a school play, it's been quite the turnaround to now sit in front of a microphone.
As I'm writing this final article to culminate my time at Floral Park Memorial, I am on my way to St. Louis, Missouri for summer orientation at the University of Missouri. Sitting in the last row of the plane right in front of the restroom is not enjoyable, but hopefully I can say the opposite about my time at Mizzou four years from now. As one door closes, another one opens, and as I finally close the door at FPM, I want to thank everyone who has made this experience unforgettable. From administration, to my teachers, to my peers, thank you Floral Park. Next stop, Columbia Missouri.
(The Shield wishes Shane the best of luck and intends to provide future stories on his journalistic experiences at the University of Missouri.)