Back For More: Shane's MLB Free Agent Predictions
Former Editor in Chief, Shane Palma, returns to give his take on MLB free agency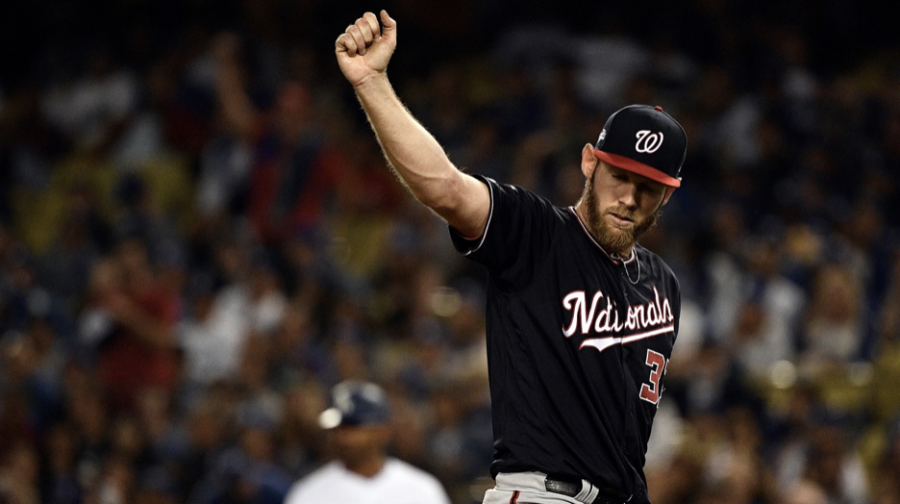 (This guest appearance by Shane Palma, former editor in chief, will be followed by our current co-editor in chief, Alison Goldberg's take on the baseball offseason tomorrow.)
How I would normally start this article off would be by calling the MLB Hot Stove season the most wonderful time of the year. Teams would be anxiously waiting for the prize free agents to decide where they would want to play over the next four or five years. Madness would ensue over a three-day span at the Winter Meetings and Twitter would be set ablaze with endless rumors circulating among sources. That would've been in 2016, and probably every year prior.  However, baseball has changed. Over the past two offseasons, the majority of players, including the highly coveted megastars, aren't being signed until late January or early February. This is just weeks before players begin to report! I've looked into potential reasoning in past articles. The most likely combination is team management being stingy with their money and free agents having too high of an asking price. The result is a stalemate and waiting game that is fun for no one. But I'm going to make this fun…by predicting where this year's biggest players will end up! Below you will find a handful of the top free agents available during the 2019-20 offseason along with my take on each one.
Anthony Rendon
MVP runner-up Anthony Rendon helped lead the Washington Nationals to the franchise's first ever World Series championship, and now he's in search of a payday. The former all-star (disrespectfully only once), should provide an immediate offensive boost to any team he signs with. Rendon has a career batting average of .290 across his seven years of major league play, having won the Silver Slugger award twice. Now it would be selfish and foolish of me to think that Yankees GM Brian Cashman would hand the third baseman such a lucrative deal, so here are two other scenarios. The first is that Rendon stays with the Nats. He's played his entire career in DC, and with a World Series under his belt, some would say he's just getting started. If Rendon preferred a change of scenery, I'm sure Atlanta would surely welcome him with open arms. With Josh Donaldson gone and a first-round exit in the rearview mirror, the Braves will need to make one more splash in order to keep up with the division's stiff competition. Adding Rendon to the likes of Freddie Freeman, Ronald Acuna, and Ozzie Albies could be the difference maker. Bold prediction right here: Regardless of what team he ends up with, Rendon will be staying in the NL East. (The Mets could also be in play.)
Gerrit Cole
He didn't come away with the Cy Young award this year, but Cole pitched like baseball's best ace in the 2019 regular season and playoffs. His insane numbers prove just that. A league leading 2.50 ERA with a .895 WHIP and 326 strikeouts, Cole was unhittable in almost all of his 33 starts. So now, the dominant righty finds himself on the open market with almost every team vying for his remarkable talent. It's hard to imagine Cole staying with Houston, especially with the amount of money they have tied to Jose Altuve, Justin Verlander and Alex Bregman. So, with the Astros out of the picture, here are two possible landing spots for Cole, the first one coming as a shock to no one. The Angels have been linked to Cole ever since he hinted that landing on the West Coast would be the preferred destination. With the best player in baseball and MVP-winner Mike Trout on their team, it's time for the secondary team from Los Angeles to make a move that can send them to the postseason. Adding Cole to a rotation with Shohei Ohtani could give the Angles a one-two punch for the playoffs. Staying in California, but not Los Angeles, the San Diego Padres are a dark horse to land Cole. Rumored to be in the market for an ace, it could come down to either him or Stephen Strasburg. Keep an eye on all the Cali teams, as I think Cole is destined for the sunshine and beach life.
Stephen Strasburg
Stephen Strasburg is in the same boat as Anthony Rendon. Both players are fresh off a World Series championship with the Nationals, both are coming off career best years, and both are looking for some huge paydays. If Gerrit Cole was not a free agent, there's no doubt Strasburg would be the undisputed best pitcher on the market. However, these two aces will now be competing for the largest contract, and the advantage has to be in Cole's favor. With that being said, Strasburg still won't come at a discount. Despite battling injuries for the majority of his career, Strasburg has never had his ERA rise above 3.74 by the end of a season over the last decade. He finished 15th in MVP voting this past year and has had double-digit wins every season dating back to 2014. With teams in desperate need of reliable starting pitching, here are two that I see as front-runners. I mentioned them earlier, but the San Diego Padres are in desperate need of an ace. Joey Luchessi and Chris Paddack are great middle of the rotation guys, but Strasburg could be the man that turns the franchise around. He attended San Diego State, so the move would make almost too much sense. Despite giving the Nationals the benefit of the doubt to be in the race for Strasburg, I'm going to take a different approach. The Chicago White Sox have already made a splash by landing former all-star catcher Yasmani Grandal, and I don't think they're done just yet. Watch out for the South Side to give their rotation a possible one-two punch of Lucas Giolito and Stephen Strasburg.
Zack Wheeler
He was third best pitcher on the New York Mets rotation, and now Zack Wheeler finds himself as the third best pitcher on the free agent market. With Hyun Jin Ryu and Madison Bumgarner also vying for similar contracts, Wheeler finds himself in a very interesting spot. There's no doubt he'll be paid a hefty amount, especially since he's only 26 years old, but there is some risk that comes attached to the right-hander. Wheeler has already had Tommy-John surgery back in 2014 and faced right shoulder fatigue just this year. It's hard not to be weary of giving him such an over-the-top deal, because there have only been flashes of his greatness, but never consistency. I've yet to mention this team in terms of adding pitching, but the cross-town rival New York Yankees should be heavily in the mix for Wheeler's services. Adding a young and potentially dangerous arm to a staff that already has James Paxton, Masahiro Tanaka, and Luis Severino, could put the team in legit World Series contention. Another team who could inquiry about Wheeler would be the Los Angeles Dodgers, who are losing Ryu. Despite retaining Walker Buehler and Clayton Kershaw, adding Wheeler might prevent another embarrassing first round exit.
(Editor's note: Wheeler signed a five-year, $118 million contract with the Philadelphia Phillies)
Josh Donaldson
Donaldson is a former MVP with the Toronto Blue Jays and is coming off a resurgent season with the Atlanta Braves. He had 37 homers and a high on-base percentage, but Donaldson is more than just impressive numbers. His locker room presence and overall morale booster than he can bring to a club was a prominent part of the Braves run to the postseason. Any team that can acquire his services would not only be getting a quality third baseman, but also an ideal role model for their younger stars. After signing a one-year, prove-you-still-have-it deal with Atlanta, it's time for some other club to reward his accomplishments with a long-term contract. And I think the first team in line will be the Milwaukee Brewers. With Mike Moustakas also set to become a free agent, the Brew Crew will have a spot to fill in the hot corner. Pairing Donaldson in an infield with Keston Hiura and Travis Shaw, would be perfect for a team that relies so heavily on Chrisitan Yelich. Another team that could make a splash is the Los Angeles Angels. Mike Trout wants to make the playoffs, so if you're the Angels, you better make the playoffs. Add Donaldson to that lineup and watch these two mash homers for years to come.
Where do you think some of these top players could land? As much as want the Yankees to land an ace and maybe trade for Francisco Lindor, my expectations are tempered. I've gotten my hopes up too many times in the past, but maybe Brian Cashman will surprise the organization's fanbase with a big-time pickup. Of course, the under-the-radar signing of DJ LeMahieu might go down as one of the Yankees best signings of all time, but I'm looking for that big name. Cole or Strasburg to the Bronx would certainly send the Bombers to the World Series. And to think, they wouldn't need to steal signs in order to get there!