WWE Wrestlemania 35 Preview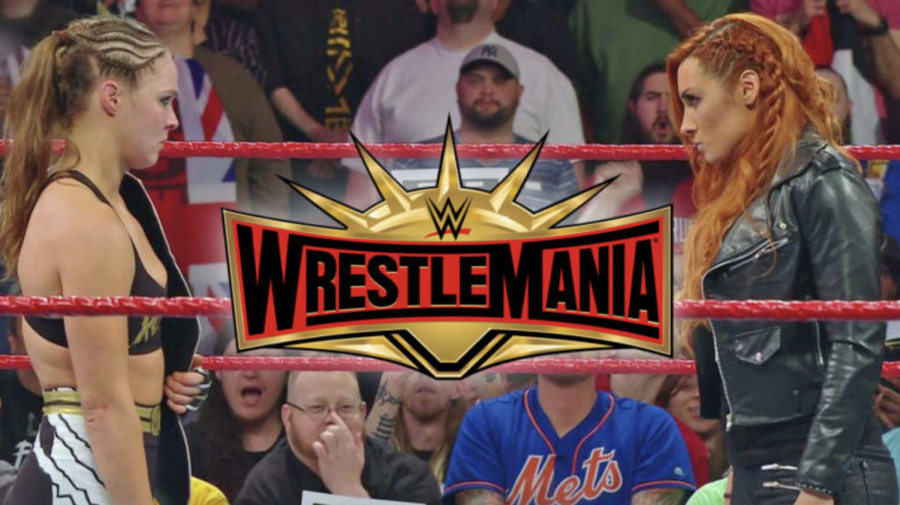 You might be expecting an article about the early season struggles of the New York Yankees, and how they went 2-4 against two of the worst teams in the league. Or maybe a glowing praise of the New York Jets' front office and how it made an incredible deal for running back Le'Veon Bell. How about some speculation on whether or not the New York Knicks can land Zion Williamson, Kevin Durant and Kyrie Irving. And there's always one of the most unpredictable final fours in recent memory to break down.
Well, you will have to wait for all of these articles because Wrestlemania is back!
Being a wrestling fan since I was young, I have decided to finally tackle this "sport" for The Shield. WWE has always been an enjoyable show for me to both watch and attend. This year, Wrestlemania has once again returned to the Tri-state area for wrestling's biggest spectacle of the year. Wrestlemania 29 was the last time WWE touched down upon Metlife stadium, an event I had the pleasure of attending along with 80,675 others. Getting back into the sport this year, I knew I had to publish some type of article to at least show off my knowledge. In a week filled with matches, merchandise stands, and mayhem, Wrestlemania was the perfect opportunity to do so, as New York City will be transformed into WWE headquarters. Now if you're reading this and thinking "I really don't like wrestling," don't leave yet! If there's any time to give the company a fair shot, it's this upcoming weekend. You won't be going uniformed if you read my analysis below. So here it goes.
Adam Cole vs Johnny Gargano (NXT Championship)
Unless you are an avid wrestling follower, these names are probably unfamiliar to you. While the NXT Takeover show isn't necessarily part of the Wrestlemania card, this match, which will air on the WWE Network Friday night, is surely one that will contend for the greatest of 2019. Originally scheduled to be champion Tommaso Ciampa versus Johnny Gargano, a neck injury has sidelined the champ for the upcoming months. A vacated title and match opportunity opened the door for Undisputed Era member Adam Cole to have his first shot at the NXT gold.  Both Cole and Gargano have bounced around from Japan to indie circuits, but finally found their calling at the top of the NXT roster. The contest will be 2-out-of-3 falls match, meaning no disqualifications and the match isn't settled until one opponent pins the other twice. In what should be a highflying, drama filled, back-and-forth bout, look for this show stealer to live up to the hype. With the championship on the line, one of these men will walk out of Brooklyn with not only the belt, but all the glory that goes with it.
Prediction: Adam Cole wins via pinfall over Johnny Gargano
Ronda Rousey (c) vs Charlotte Flair (c) vs Becky Lynch: Raw and Smackdown Women's Championship
The main event for this year's Wrestlemania was announced on ESPN two weeks ago and has followed quite a wild storyline. Rumors can be heard almost everywhere that Ronda Rousey will be leaving the company after the following Monday night, deflating the match to a level that should honestly be left on the mid-card. Unless the contract disputes are another part of the act, ever since taking up "The Man" persona in the fall, Becky Lynch has been the face of the women's division but has yet to seize a title. Winning the Royal Rumble in January guaranteed her a shot at the belt all while guaranteeing fans a new champion in the future. Originally scheduled to be a one-on-one match, Charlotte Flair (yes, for those of you older readers, she is the daughter of legendary wrestler Ric Flair) was added into the mix out of the blue, creating an unwarranted triple threat. Between Lynch, Flair, and Rousey, this feud has seen arrests, suspensions, and the beatdown of security guards over the course of the past three months. Finally coming to an end this weekend, it will be hard to see Rousey or Flair walking out with their Raw and Smackdown titles respectively.
Prediction: Becky Lynch wins via submission over Charlotte Flair
Kofi Kingston vs Daniel Bryan (c): WWE Championship
Kofi Kingston was never supposed to be in this spot. He's been a mid-card wrestler his entire 11-year career, with WWE keeping him out of the main event spotlight. But all of that changed at Elimination Chamber when the third member of the New Day faction replaced an injured Mustafa Ali in the PPV's biggest match. Kingston put on a show in the steel structure, nearly winning the title in his first opportunity, but came up short to Bryan and leaving the crowd in an uproar. Fans worldwide took to social media to express their displeasure and advocate that Kingston finally get his deserved match at Wrestlemania. Facing months of torment from management, including grueling gauntlet matches against some of Smackdown's top stars, Kofi finally secured his spot on the "Grandest Stage of Them All", after his New Day teammates knocked off Daniel Bryan and his tag partner Rowan. With momentum on his side, and fans wanting to see the end of a memorable underdog story, I have a feeling New Day WILL rock at Wrestlemania.
Prediction: Kofi Kingston wins via pinfall over Daniel Bryan
Brock Lesnar (c) vs Seth Rollins: WWE Universal Championship
Similar to the storyline between Becky Lynch and Ronda Rousey, this "feud" culminated right after Seth Rollins won the Royal Rumble and chose to face Brock Lesnar at Wrestlemania. I put the word "feud" in quotation marks, because the spectacle that is Lesnar hardly ever shows up to a B-List show. Without the Beast Incarnate to hype the match, Rollins has been forced to do much of the heavy lifting. A former UFC fighter, Lesnar's future is never guaranteed past a few months. Like Rousey, Lesnar could possibly be through with the WWE following Sunday night, making the outcome blatantly obvious for one of the marquee matchups. And if he does win? Well, that might cause even more of an outrage from the rowdy New York crowd. Reigning as champion for a combined 650+ days since 2017, the competition against Lesnar has been lackluster and stale. Putting the belt on Rollins would not only rejuvenate the aura of the Universal title, but also bring Monday Night Raw a deserving championship holder each and every week. It will be brutal, enjoyable, but nonetheless, predictable.
Prediction: Seth Rollins wins via pinfall over Brock Lesnar
If you made it this far, I applaud you. As I said before, wrestling and the WWE certainly aren't for everyone, but maybe I peaked your interest. For those totally biased against wrestling because of its staged nature, I would disagree wholeheartedly with you. While it is "fake" and scripted, the show is put on for entertainment purposes just like any other reality TV show or movie you watch. The WWE Network is free when you sign up, so try it out for the weekend and see what you think. And if you still find yourself unsatisfied, I'll be back with my regularly scheduled podcasts and articles next week. Enjoy the wrestling-filled week here in New York!